Remember that reality show about little people?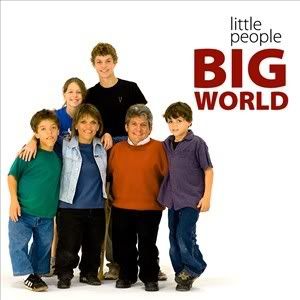 Do you recall the one about pit bulls?
Well if you think those shows were good, you need to seriously reevaluate your reality show appraisal skills because now there's a reality show about little people AND pit bulls! Its called
Pit Boss
and I have no idea what its about. In fairness, no reality show is really about anything anyway, but I digress.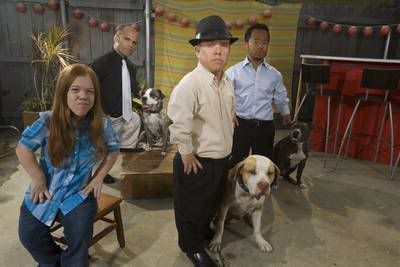 Confused? So are we.
After watching the
Pit boss
promo, I was left with two primary impressions:
- Little People!
- Pit Bulls!
That was all the concrete information I could gather about the show. Additionally, I got the impression that the "pit boss" is supposed to be some kind of tough guy or something. I say this because he wears a fedora and smokes cigars. I may not know much about the show, but if there's one thing I do know its that fedora + cigar = tough guy.
In an effort to get more information, I went to the Animal Planet website and found the following synopsis:
Former actor, entertainment guru and pit bull rescuer Shorty Rossi has lofty ideals, a tough attitude and an entertainment industry Rolodex to help his cause. And he's gathered together three friends/employees; Ronald, Ashley and Sebastian, to take on the gargantuan task of rescuing, rehabbing and training the most misunderstood of dogs—pit bulls. 

Shorty, a workaholic with a devilish sense of humor and quick temper, balances two jobs—running Shortywood Productions, a Hollywood talent management company for little people, as well as Shorty's Rescue, his pit bull rescue group. 

Shorty, aptly named, and his three cohorts happen to be little people with the biggest hearts for these adorable dogs, who often are bigger than they are. From the producers of Millionaire Matchmaker and Blowout, Pit Boss follows the everyday drama and joy of these buddies and business partners as they hit the streets of Los Angeles in their fight to overcome stereotypes — for themselves and the pit bulls they save.
So did that clear things up for you? Yeah, me neither.
*In Related News*
As I was doing my research on
Pit Boss
, I came across the following ad:

Jeff Corwin is hawking Lunchables? Jeff, I thought you were an advocate for the
natural
world... Ba-dum-dum! Thank you and I apologize.